Events
Here I'll record more detail on various significant events as they occur
---
31 May - 1 June 2008
The Brisbane guitar show is put on by the lovely guys at Guitar Brothers.
This year I was sponsored by an anonymous benefactor to attend the show as an exhibitor. It was a lot of work getting ready for the show but the enthusiast responce from the public was fantastic.
Here is a video of some of the activitiy at the Brisbane Guitar Show...
Here are some photos of the show.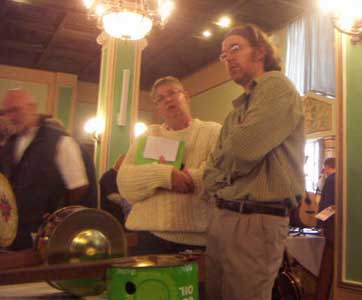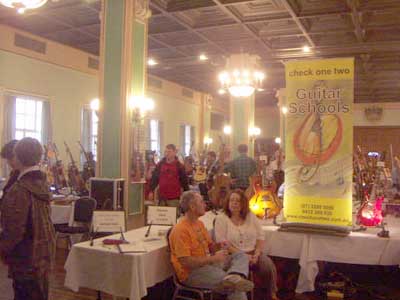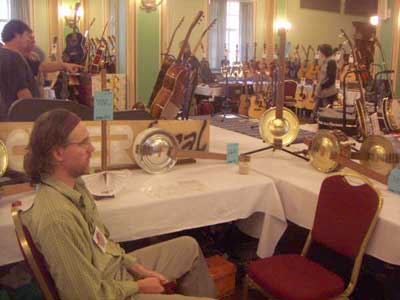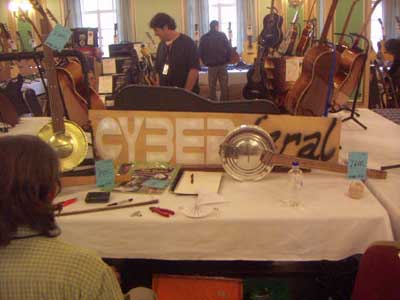 ---
Back to project home
The Uncle Bob is a CyberFeral Project
---
Woodford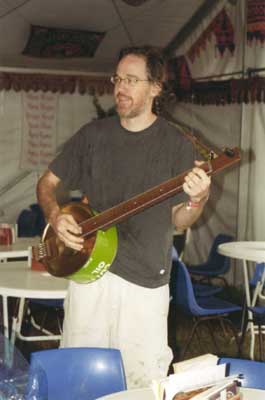 The Woodford Folk Festival just north of Brisbane is one of the best festivals of its type in the world. He're I am singing for my Breakfast in the Hare Krishna tent. Thanks very much to Shyam and Murari for taking the shot and sending it to me.
The focus of going to the festival this year was to demonstrate the prototypes to the high concentration of like-minded musicians there. I had no's 001 and 003 to 006 there. They can all be seen on the galley page.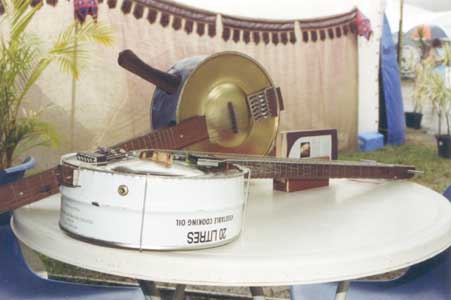 Here are a couple of them at the Hare Krishna tent.
There were many blessed moments at Woodford, one of them was caught on electronic media. During a seminar on downshifting, Ralph was walking past as they asked if anyone had a guitar for one of the speakers to use. She then met me a minute or so later, quite by chance, and I was able to get SN003 into the speakers hands. The speaker was Anja Light and the whole session is available on the Green Room website. The session is here.
I've pulled out the section of the session with my intro and Anja's song and included it here.
---
Back to project home
The Uncle Bob is a CyberFeral Project
---
8th September 2006
The Debut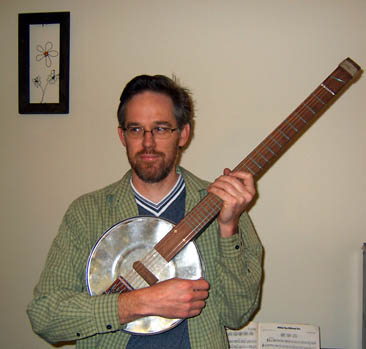 This was the day I finally got a MISO (musical instrument shaped object) ready for Bob. Here I am with it getting ready to go out to the gig where, unknown to him, I'm going to corner Bob.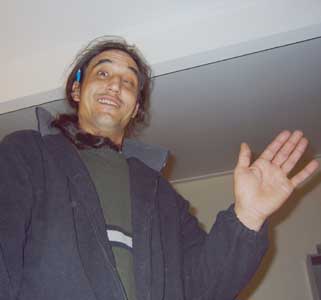 Tim came with me, we were all quite excited.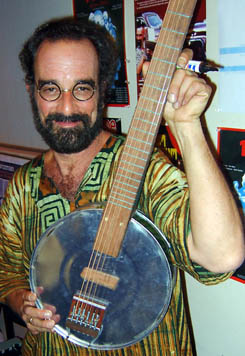 Bob loved the gutar and put on a great show as usual.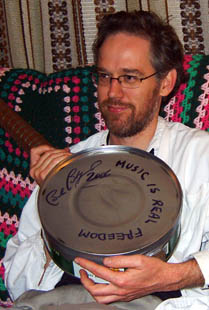 Back home after the show, I was well pleased. The site I put up at the time is archived here.
---
Back to project home
The Uncle Bob is a CyberFeral Project